CHIEFS OF OLDHAM
1856 – 1857 MOSES MILLS
1858 – 1861 E. J. SAGGERSON
1862 – 1864 WILLIAM SCHOLES
1865 – 1877 JOHN BOOTH
1877 – 1892 INSPECTOR THOMAS ADAMSON
1892 – 1905 SUPT WILLIAM HARRISON
1905 – 1914 SUPT HARRY BOARDMAN
1914 – 1931 SUPT JAMES PENKETH
1931 – 1939 SUPT HARRY NEEDHAM
1939 – 1954 CFO BURT BELLAMY
1954 – 1969 CFO ALBERT PICKERING
1969 – 1974 CFO HAROLD GARLICK
SUPERINTENDENT WILLIAM HARRISON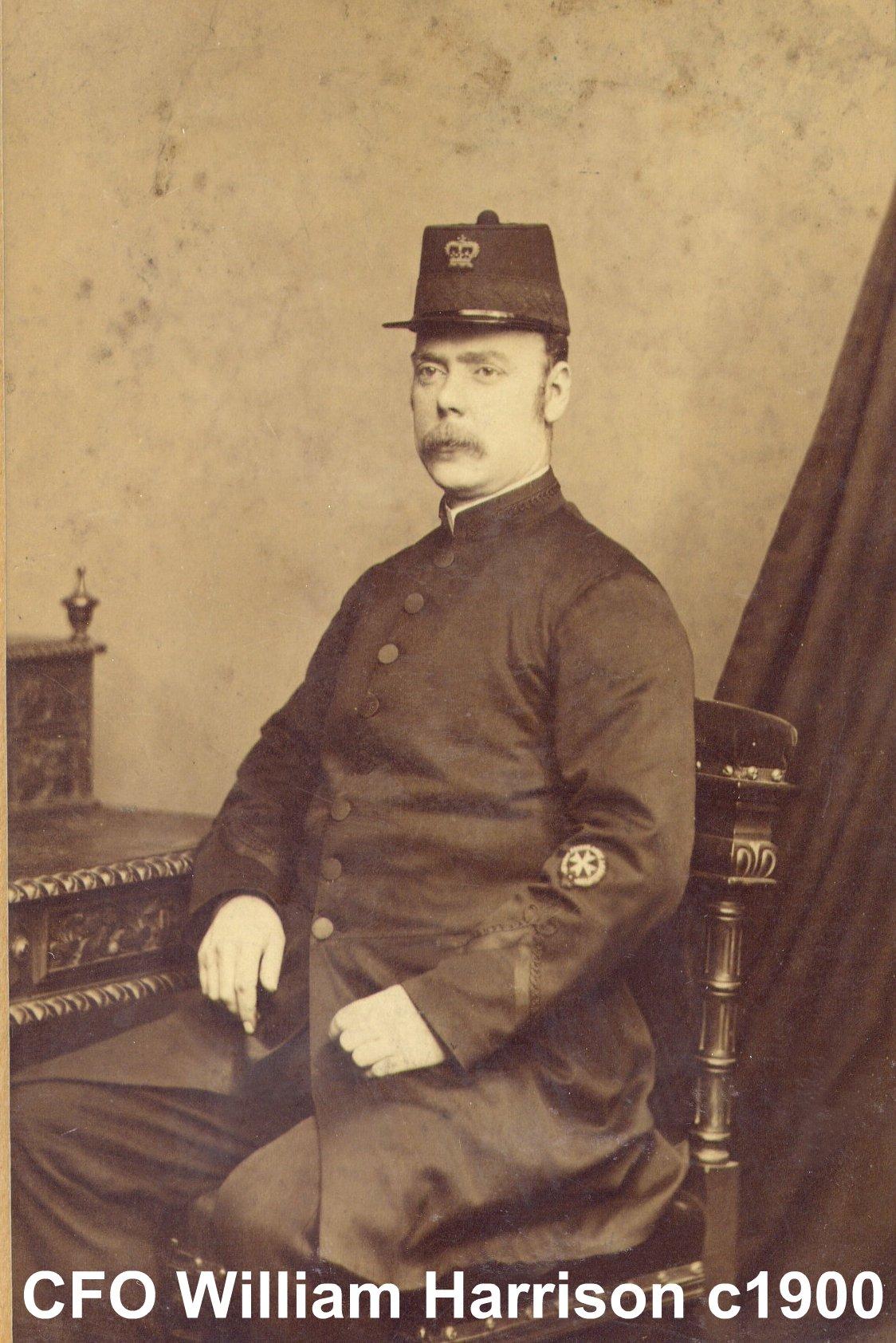 Born Liverpool1854. Superintendent in charge of Oldham Fire Brigade 1892 - 1905. Promoted to Deputy Chief Constable in 1905. In about 1899-1900 he went to America to see how the American Fire Brigade operated.Photo shows him in probably Royal & Ancient Order of Buffaloes regalia. Had a wife named Ruth Anderson who came over from Ireland and they had six children Albert, William, Amy, Emily, Edith and Clara. His wife died quite young and when he retired he went to live with Emily in Mosely Birmingham.

CHIEF OFFICER ALBERT PICKERING
Born 1911. From Chadderton. Previously worked as a carpenter/joiner until recession in 1934. Joined Oldham on 25th January 1935 as a police-fireman. In 1940 he was one of the firemen who fought a blaze at Belgium Mill, Royton when German bombers dropped an oil-cocktail bomb. In 1941 after NFS was formed he was put in charge of Oldham & he also served at Rochdale, Barrow-in-Furness, Carlisle & Liverpool being attached to the 26th Fire Force. Returned to Oldham in Feb 1946. Became DCFO on 1 April 1948. . Became CFO after Burt Bellamy in 1954 until 1969. In 1960 he was awarded the QFSM. Was an Associate Member of IFE. Died on 31 Jan 1978 at his home 34 Parkstone Av, Thornton, Cleveleys..